Multiple VPC Peering Connections
A VPC peering connection is a one to one relationship between two VPCs. You can create multiple VPC peering connections for each VPC that you own, but transitive peering relationships are not supported. You do not have any peering relationship with VPCs that your VPC is not directly peered with.
The following diagram is an example of one VPC peered to two different VPCs. There are two VPC peering connections: VPC A is peered with both VPC B and VPC C. VPC B and VPC C are not peered, and you cannot use VPC A as a transit point for peering between VPC B and VPC C. If you want to enable routing of traffic between VPC B and VPC C, you must create a unique VPC peering connection between them.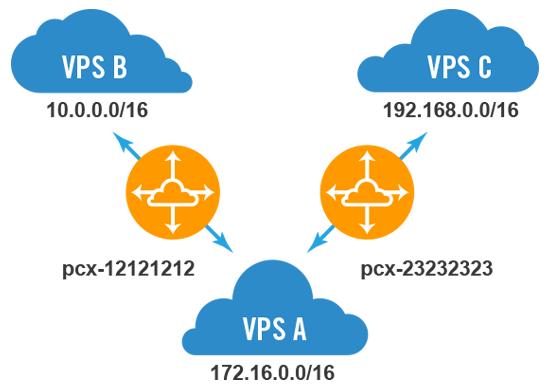 Direct Cloud
Make money with the cloud: fast, simple, cost-effective
At select locations, GPIEX provides private access to cloud service providers. This means you can use your existing access to GPIEX connect to several cloud service providers; just via an additional VLAN.
Your benefits
Available cloud service providers
Currently, the following cloud services are accessible through GPIEX (depending on location):